At the Centre for Addiction & Mental Health in Toronto (CAMH), I am proud to have facilitated:
• Over 600 one-hour hand drumming & storytelling sessions
• serving over 1300 patients/clients since May 2009
• drum groups facilitated on 18 CAMH units (as below)

These activities have been made possible through CAMH Volunteer Services, and now as a 2022-2024 contracted recreation Vendor with the CAMH Foundation 'Gifts Of Light' Program.
CAMH Recreation Therapist testimonial (2022):
"One way I cope is knowing I have the best job in the world.
Well the best job got better yesterday …you see I had three Gifts of Light programs.

Finally to top off this amazing day was drumming. Nicholas is truly an amazing professional.
We had one client. She only participates in this group and is rather shy and reserved.
Yet to see her drum and follow Nicholas was breathtaking.
It was as if the through drumming she was able to see sunshine and hope.

You know the only reason why any of us are here is for the clients.
Our clients go through so much and I can never be sad knowing how courageous our clients are.
To see clients enjoy there three groups yesterday was truly magical."
Patient programs with my Gifts Of Light drumming/storytelling sessions include:
• 'Complex Care & Recovery' units CCC3, CCC4, CCC5, CCC6 (2022-2024)
• 'Forensic General Unit D' (2023)
• 'Forensic Secure Unit A' (2023)
• 'Geriatric Admission Unit B' (2023)
• 'Drug Treatment Court Services Program' (2023)
• 'Concurrent Youth Unit' (2023)
• 'Forensic Secure Unit B' (2022)
• 'Forensic Outpatient Services' – FOPS (2022)
• 'Psychosis Recovery and Treatment' units PRT5, PRT6 & PRT7 (2021-present)
• 'Therapeutic Neighbourhood' (2020 to present)
• 'Medical Withdrawal Unit' (2015)
• 'Schizophrenia Services' (2009-2014)
• 'Psychosis Coordinated Care Service' (2012-2014)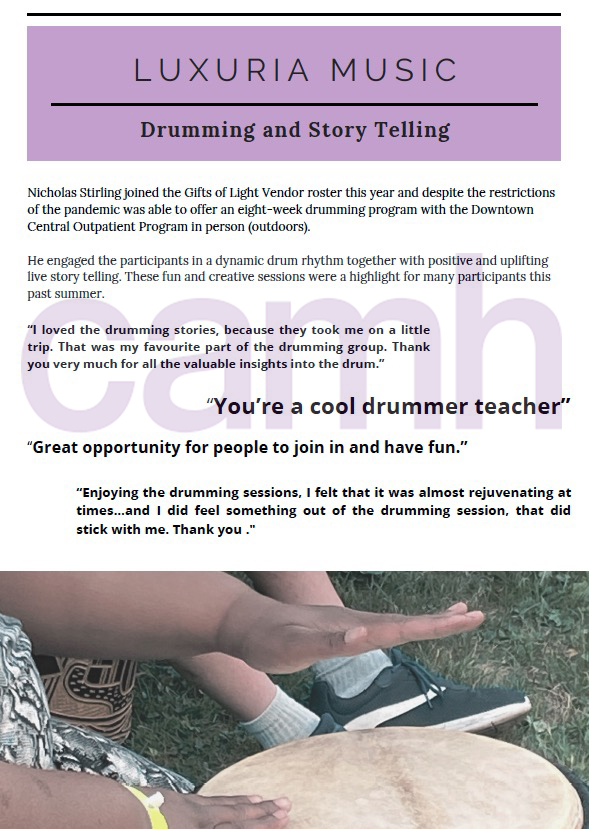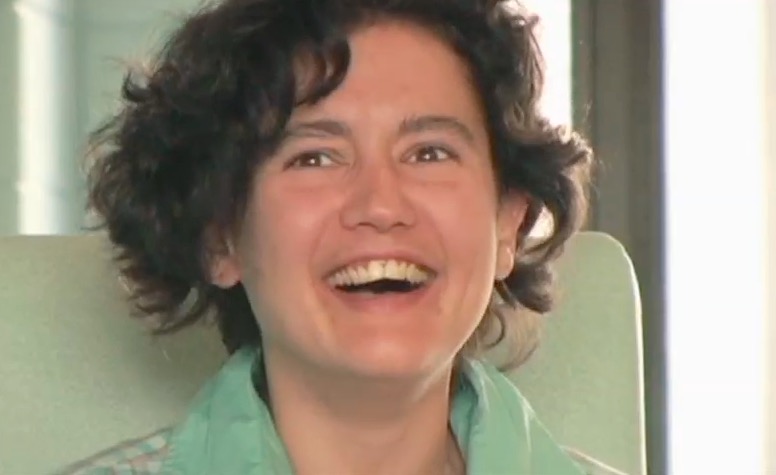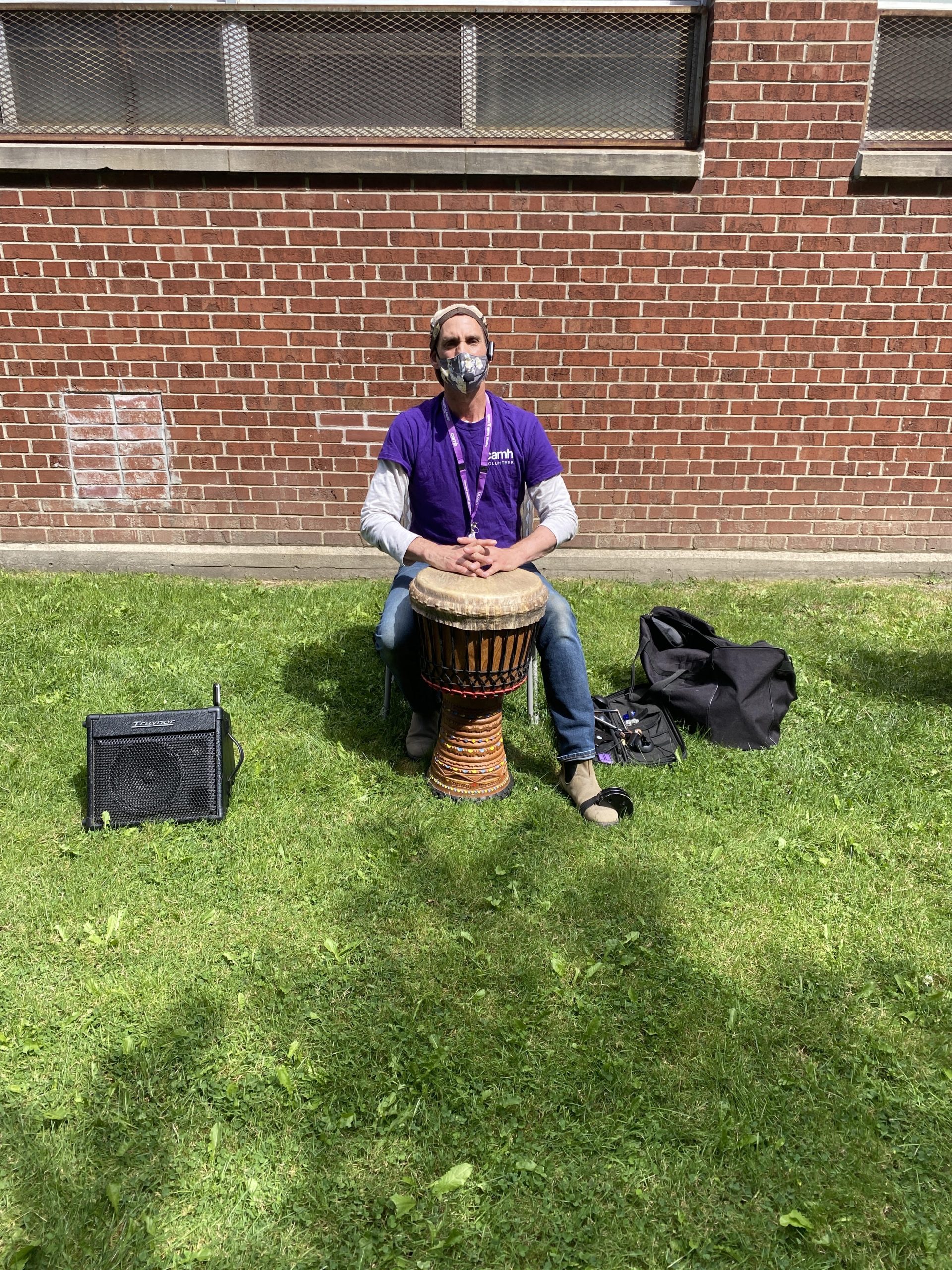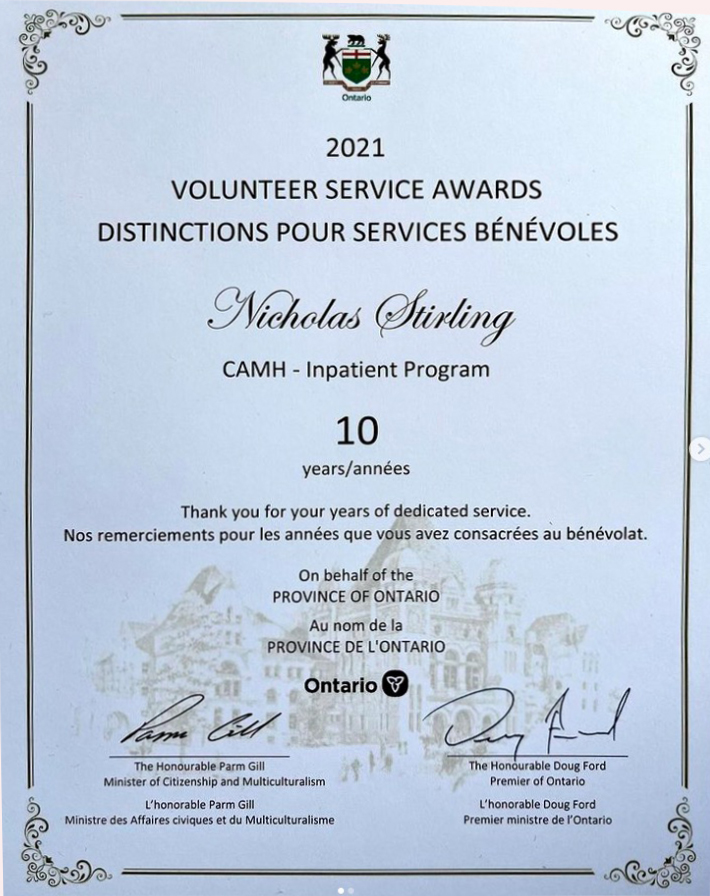 ________________________________________________________________________________________
Filmed over 18 months (2010 & 2011) in the CAMH Schizophrenia Inpatient Unit 2-4, this film profiles the lives of people suffering and living though severe mental health disorders and how the Arts can become a profoundly uplifting experience.
Drumming/storytelling facilitator Nicholas Stirling, together with CAMH Recreational Therapists, nurses, and clinicians bring purpose to helping and engaging patients, with enjoyment and activity both inside- and outside- the walls of CAMH.

Directed/Produced by Norman Lofts/Snowy Owl Productions & the NFB Filmmaker Assistance Program
Broadcast on CBC Documentary Channel / Doczone. ©2012